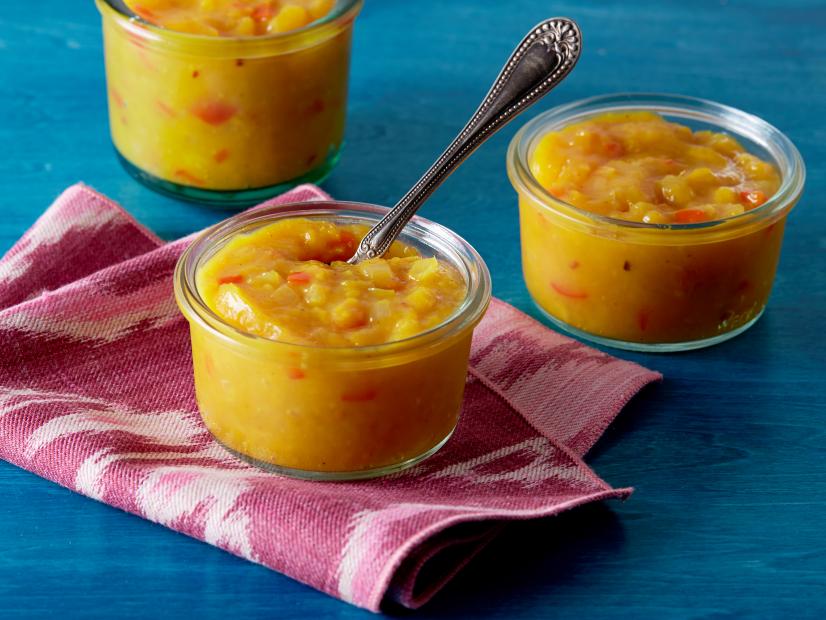 While we're on the topic of mango and Indian food, there is no way that I could even think about not bringing up mango chutney…the standard Indian condiment…as standard to that cuisine as ketchup…(or catsup…really, people(?!))is to ours here in America.
The word "chutney" derives from the Hindi word meaning 'to lick' or 'to eat with appetite'…and the Hindi people must really have a great appetite for chutney because in India, chutney is as common as ketchup is here in America. They served chutney a dipping sauce for naan, a condiment for curry, spread it on toast…kinda like vegemite and Australia.
Chutneys have actually been concocted as far back as 500BC….where the people in India began to grind down any medicinal plants, plants that they believed to have health benefits, into chutneys…adding spices to the ground down plants…making a wet paste with the mixture…and sauteeing it in oil…in order to keep the overabundance of fruits and veggies from going bad…
But first of all…what exactly is chutney…and what's the difference between a relish, a chutney, a marmalade…
*********************
Chutney…The What
********************
Chutney are savory condiments that can be made from a variety of fruits and veggies—such as coconut, mango, tamarind, apples, rhubarb—that have been slow-cooked along with vinegar and spices.
The idea of making chutney originated in India, but over the centuries has expanded to the point where today almost every country has its own interpretation of this versatile condiment.
Chutneys found in India typically consist of roasted dried lentils, spices—such as coriander, ginger, garlic and cumin, dates, coconut, onions, prunes, tomatoes, chili peppers, limes, mango, and peanuts.
Chutneys from South Africa feature apricots.
Chutneys from England feature apples and vinegar.
****************
Chutney or Jam
***************
Chutney differs from jam because jams and jellies are sweet…while chutney is savory because of the spices and vinegar that have been added to the fruit.
Recipes for jams often require pectin in order to creates a thick texture….whereas chutney recipes never call for added pectin.
Chutney is typically chunky and full of pieces of dried fruit and raisins whereas jams are typically blended until smooth.
********************
Chutney or Relish
******************
The difference between chutney and relish are not as clear. Perhaps the main difference is the fact that chutneys combine various fruits…whereas relishes typically focus on one primary ingredient.
*****************
Making Chutney
****************
You can easily make your own chutneys by slow-cooking fruit or vegetables with other ingredients—such as garlic, chil peppers, and vinegar. Then you can use your chutney as a unique, flavorful condiment served along various entrees and appetizers that your guests will be sure to remember.
******************
Types of Chutney
*****************
As talked about briefly earlier, once the concept of making chutneys found its way out of India and into other countries and regions around the world, this condiment came to no longer be a recipe, but a conglomeration of any and all sorts of ingredients…more of a concept, rather than an actual recipe.
Today perhaps the four most common chutneys are Major Grey's Chutney, mango chutney, mint chutney, and tomato chutney.
***********************
Major Grey's Chutney
**********************
Major Grey's Chutney…This type of chutney is very similar to mango chutney, but milder…and with two more key ingredients—raisins and lime juice. Typical ingredients of Major Grey's chutney include mango, raisins, vinegar, lime juice, onion…some sort of sweetener…and some blend of spices.
Supposedly the recipe for this variety of chutney was first created by a British Army officer…(probably named Major Grey…go figure)…and is the most popular type of chutney here in America today.
Two brands of Major Grey's Mango available for sale in the US and Canada are Patak's, Sharwood's and Crosse & Blackwell…(the last of which if owned by Smucker.
5 firm mango, about 3C
1C sugar, brown sugar, or other sweetener
1C vinegar—apple cider or white
1C seedless raisins
Fruits/Veggies—2 small onions, chopped fine…1/3C cup fresh ginger, grated or chopped fine…1/2″ piece Mexican lime, little, thin skin…3/4″ piece serrano chile, small…one large onion, chopped
Spices…
1tsp each—salt, allspice, cloves, nutmeg, pepper
2 cloves garlic, minced
1 stick cinnamon
Other…

1/2C slivered almonds

1 1/2 teaspoons mustard
Peel mangoes. Cut into 1/2″ segments. Put the vinegar in a heavy kettle. Tie the spices in a muslin bag large enough to allow swelling. Add this bag of spices and

sugar. Simmer gently 30min, stirring often.

Add fruits/veggies/other and half of the mango. Simmer two hours, stirring and watching carefully. Add the rest of the mangoes. Simmer two more hours. Remove the spice bag. Pour mixture into hot sterilized jars. Seal. Let set in a cool place for several weeks before using. This chutney can be kept for years.
*****************
Mango Chutney
****************
Mango Chutney…Mango chutney is very similar to Major Grey's chutney, but milder and sweeter. Here is Alton Brown's recipe for mango chutney…
4# fresh mangos, peeled
3Tbsp vegetable oil
Spices…1tsp chili powder…1-1/2Tbsp curry powder…salt and pepper
Fruits/Veggies…1/4C minced fresh ginger…1C red bell pepper, diced…1/2Craisins
Other…8oz unsweetened pineapple juice…4oz cider vinegar…1/2C brown sugar…1/2C macadamia nuts, roughly chopped and toasted
Cube the mango. Heat the oil in skillet. Add spices, onion, and bell pepper. Saute 2min. Add mango. Cook for one more minute. Combine pineapple juice, vinegar, sugar, and curry powder in a separate bowl. Add this mixture to the skillet. Stir to combine. Simmer for about thirty minutes, stirring frequently. Add raisins and nuts. Season with salt and pepper.
**************
Mint Chutney
**************
1 bunch fresh cilantro
1-½C fresh mint leaves
1 green chile pepper
½tsp salt
1 medium onion, cut into chunks
1Tbsp lemon juice
¼C water
Combine cilantro, mint leaves, chile pepper, salt, onion and lemon juice. Process to a fine paste, adding enough water to achieve a thick sauce.
*****************
Tomato Chutney
****************
Instead of serving plain ketchup, try a zesty tomato chutney with your burgers and french fries…such as the following recipe…
8 tomatoes, chopped
1/2C apple cider vinegar
2Tbsp olive oil
Spices…2 garlic cloves, minced…1tsp cumin…1tsp cumin…1 tsp dry mustard…1/2tsp turmeric…1tsp chili powder…2Tbsp brown sugar…1/4tsp salt

Fruits/Veggies…2 green chilies, finely chopped with seeds removed

Add the olive oil to a saute pan over medium heat. Add spices, chilies, and garlic. Cook for one minute. Stir in the tomatoes, vinegar, sugar, and salt. Simmer over medium heat, uncovered, for about twenty minutes.